I couldn't put it down once I had started it.
A Reader
Sensitive and beautifully written, this little book is there to get you through.
Katie Fforde (bestselling author)
It should be at the bedside of every bereaved person.
A member of Florence Nightingale Hospice
Colin Dexter writes… It is rare to find in Gina, a poet of considerable stature, who is able, so movingly in the face of bereavement to articulate such positive affirmation as in Requiem, for example.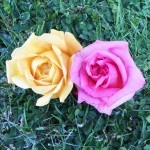 I can only say thank heavens Gina decided to share both the circumstances of her grief and her poetry because she has done something remarkable here.
Read more…
Dovegreyreader
You have written such beautiful moving honest brave sad funny poignant touching life-affirming death-understanding poems. It is the most extraordinarily comforting book to cry your heart out with. Thank you.
Angela Young
Gina Claye's words are so simple, comforting and appropriate; I was bowled over by them. It made such a difference, just knowing someone else had been there too.
A Bereaved Parent
When someone shares a feeling with me which is reflected in one of these poems, I give them that poem to read. They find comfort in knowing they are not alone in their struggle to live with such painful and overwhelming emotions.
Judy G, Cruse Bereavement Care